Workshare Review: Collaborative Software to Compare Files Online
I don't write business plans for my customers. However, I always offer a review. Typically, I receive the business plan in a Word document and make my changes there. One of the struggles I face is my clients' familiarity (or lack of familiarity) with the track changes/comment features. Workshare provides a different method for tracking changes, while allowing users to compare files online. Below you'll find my Workshare Review.
Overview
Workshare is a UK company that's been around since 1999. Though the company merged with Skydox in 2012 and also purchased IdeaPlane around the same time, it continued to use the name Workshare. The company focuses on software that helps professional groups share and collaborate on documents.
The Workshare software is currently in its 9th major release. With Workshare 9, the company did an overhall of the user interface to remove some of the technological barriers in the prior versions. The main features of Workshare 9 allow users to:
Compare files
Share files securely
Access files on the goal
My Experience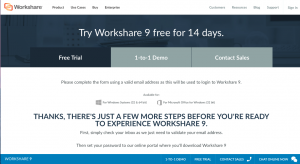 You probably realize by now, I'm big into free trials. Luckily for me, Workshare offered a 14-day trial. Signup wasn't too bad. I provided my contact information, then had to wait for the verification email. I didn't get to pick a password until after I verified my account.
The first thing I noticed after logging into my account was the sync option. Windows has the prominently position, up top and bold. However, Workshare also includes the Mac version and apps for electronic devices. Being the Mac user that I am, I downloaded the OS option. From my experience, it mirrored the web version exactly.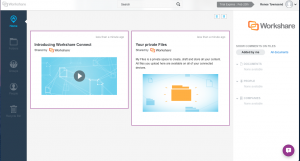 Dashboard. I was a little concerned with where to start. However, I clicked on the dashboard and found an excellent training video that provided an overview of the entire program. To be honest, the program seemed simple to use and very straight forward. Also in the Dashboard was a link to the Folders tab.
Folders. Uploading my files was extremely simple. It offers the drag and drop feature and the ability to select files from the desktop. I chose to drag the various versions of the financial templates I created. Within Folders is also a section that allows you to see the activity that's happened with your files, similar to an audit trail.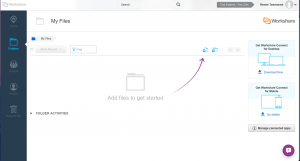 The most important feature in Folders (in my opinion) is the ability to manage documents. Clicking on the file allows the user to view the document. Other than adding comments, documents cannot be edited from within the program. Each new version must be edited in it's program (for example, word, excel, adobe) and uploaded to Workshare. Each file version is saved as a separate version with an audit trail documented in the folder activities. I was able to view image files, MS Office files, and PDF files directly within the software. There may be other files available for viewing, but I didn't try them.
Files can also be shared individual to an established group. There is no bulk share feature within Folders. However, one can add multiple files to share in the Groups workspace.
Groups. Groups is where the program became a little less clear. What I found was you could create a group, but without anyone in the group, what's the point? The Groups tab has a feature to add members. What's odd though, is it does a search. You begin typing in the name and it searches for contacts already in your Workshare network. Contacts are added into your network through the People tab.
Unfortunately, even adding people was a little murky, as it only gave me the option to add people with my domain extension under colleagues. I'll go into more detail about how to do that in the People subcategory below. However, nothing in the video or even the software gives hints that you can actually type in the email of the individual you'd like to add to your group. Though you can add any email to the group, apparently only those who've signed up for the service receive a notification they have access to anything in Workshare. Doh!
My experience with Groups and conversation revealed that it was an instant messaging type of system. Like other instant messaging systems, you need to be logged into the account to view the dialogue. I set up a separate account on my mobile device to enjoy the features of Groups. Though the concept is great. I'm not sure I'm hip on the idea of another group sharing tool. Even though there is an app, the notifications get sent to email instead of an onscreen phone notification. As such, it makes the Group feature less useful.
Within Group, you can also share files. Oddly enough, you have to upload the files separately from the ones already stored in your folder. To upload files within your folder to Groups, you have to go to the Folder tab and share the files individually to the group. So, it doesn't seem that the Workshare Software is very well integrated within itself.
People. Personally, I think the Groups tab should come after the People tab, as nothing can really be accomplished in the Groups tab without first adding people. As I mentioned, People wasn't as straight forward as I would have liked.
Within the People tab, you can add colleagues. Colleagues refer to the individuals who have email addresses associated with your domain. I couldn't find any place to add those outside your company domain. However, if you added an individual through the Groups tab, you could manage them from the "Manage Your People" link. Management really involved just taking away access.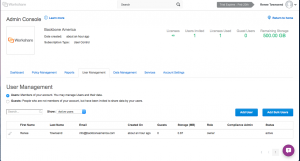 What I found most odd about the management tool is it took you to an Admin page that was a pretty bare bone looking user interface. It was almost as if they started wrapping everything up and decided, "Good enough. We'll get back to that… someday… well, maybe." Oh well. You get back to the main part of the program by clicking the Workshare logo in the upper left corner.
Recycle Bin. Last but not least, is the Recycle Bin, where all your trashed files go. Interestingly enough, you can only delete one file at a time from areas like the Folder. The program does offer the option to restore everything in the Recycle Bin or even empty the bin in one go.
My Overall Thoughts
The program looks simple to use, as the design is simple. However, the functionality isn't as well-laid as I'd like. I found myself jumping around from section to section in order to accomplish what I wanted. In my opinion, it should have been a bit more simple and integrated within the software.
I will say, once I understood the way the program was integrated, it was easy enough to use, as there really isn't much to the program. Add files, choose individuals to collaborate with, and that's pretty much it.
Options Graded
File Comparison
The file comparison tool is okay. It offers the ability to track, offer comments, and look at the different versions. The markup comparison feature is restricted to Word documents, PowerPoints, and Adobe PDF files. Being those are probably the most common documents sent for collaboration, it's probably fine. However, I would have liked to see Excel supported for comparisons also. That's more of a personal preference, since I deal with a lot of numbers in Excel workbooks.
When it comes to documents that aren't supported with the comparison feature, the comment feature is still available. In this case, the software is more like a management tool where one tells an administrative assistant to make changes based on the comments provided. It's not the greatest for non-supported documents, but it gets the job done.
As I mentioned above, the documents also need to be modified in a separate program and then uploaded as an alternative version. Being able to make changes within the document, would greatly enhance the software, in my opinion.
File Security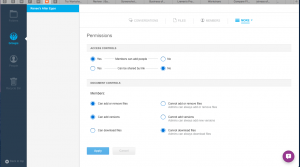 I must have missed the file security they mention on the home page. From what I can tell, the biggest file security feature comes about by not adding strange email addresses to your groups. To me, that's more common sense than file security. Basically, if you don't grant access to people, they don't have access to your files.
Within the Groups, there are also a few permission features that manage things like providing links to the group, granting others access to the files, allowing the ability to upload new versions, add/remove files, and the ability to download files. It's more of a Group setting than an individual setting though. I thought I saw in a video the ability to password protect a file, but I didn't see that option in the actual program.
Work Mobility
I have mixed feelings about the mobility feature. Yes, you have all your documents available to you where ever you go, because they're stored online. As long as you have internet access, you should be good to go in terms of having the documents. However, my concern with mobility is what can you do with those documents? If I have my laptop with me, I'm likely going to have all the documents available anyway. If they're files stored on a work computer, I can certainly upload them to Workshare for access when I'm away from my desk. However, I still have to download the files to my laptop to make those changes. I struggle to see how that differs from a program like Dropbox or some other cloud-based storage system.
Ease of Use
The software has a slight learning curve. I almost get the impression the program was developed without fully laying out the database first. As such, one has to hop from section to section in order to accomplish tasks which could be consolidated on a single page. On the other hand, there aren't so many bells and whistles the program is overwhelming.
Customer Service & Support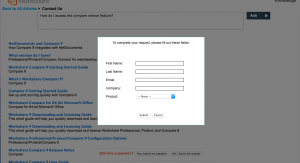 I didn't find a customer support number, so I utilized their weird contact form to ask my question. It requires you to first go into their help section, then type in your question. Instead of connecting you to someone who can answer your question (or a contact form), it gives you a list of posts with an option at the bottom to say whether or not you've found what you're looking for. From there, you can request additional help and finally fill in a contact form that asks you what product you're using with about 15 versions to choose from. Hmmm…
I sent my ticket late on a Saturday night and went to bed. By 4 am, I had a response. In the response were instructions on how to solve my issue. Not bad for a weekend.
Pricing
Initial signup includes a 14-day free trial without a credit card.
Edition
Comparison
Sharing
Integration
Compare documents frequently and share occasionally
Compare documents, access them on any device, share and work on them with others
Integration with storage and backend systems

---

Cost/Month
$15
$34
Contact Sales
File Storage
50GB
Unlimited
Unlimited
File Transfer
100MB
4GB
Unlimited

---

Compare Word, PDF & PowerPoint files on desktop
Everything in Comparison +
Everything in Sharing +
Compare files on web & mobile
Automate cleaning of metadata & conversion of attachments to PDF before sending as links
Comparison API – desktop & server
Receive inbox, web and desktop app alerts when documents are modified
Replace attachments with links from Outlook
Email attachment cleaning & PDF conversion API – desktop & server
'Clean metadata & convert attachments to PDF within Outlook
Send redlines as links
Policy-driven attachment cleaning through Exchange
Sync files across all your devices
Send files as links from Word, Excel & PowerPoint
Use your own location for documents (Hybrid option)
Integration between DMS & desktop comparison
Two-way syncing between DMS and Workshare online
Single Sign On (SSO) & Active Directory integration
Shared folders & discussion groups
Document auto-delete policies
File sharing & sync API for integration with automated back-end systems
Unlimited private deal checklists
User activity reports
Additional shared deal checklists & automated closing binder production
Choose where we hold your documents
Branding & customized client notifications
Add customized subdomains to Workshare URL (yourcompany.workshare.com)
10 Shared deal checklists
Web-Hosting or Locally Installed
This software allows you to use a web-based version or download and install the Windows and/or OS version.
Hardware Software Requirements

No Credit Card Required