Xero Review: Best Accounting Software for a Report
Being American, I was raised with the mentality that the US is #1 in everything. One of the nice things about reviewing software for small businesses is being exposed to non-USA products. Xero is one of those. So far, I've found it to be the best accounting software for a report.

Company Overview
Xero is a New Zealand based company, created in 2006. A decade later, and Xero has offices in New Zealand, Australia, the United Kingdom, and the United States. Like FreshBooks, the owner (Rod Drury) and his account, felt the current accounting solutions were lacking. As such, they decided to create a cloud-based solution that was more up to date.
I first heard of Xero when I attended my ASBDC conference in 2014, two years after Xero entered the US market place. I have to admit, when I saw them at the conference I mentally thumbed my nose at them., thinking QuickBooks was THE ACCOUNTING SOFTWARE. Now, I'm seeing there's a market for accounting software and the competing products are worthy of trying out.
Just in 2 years, this simplistic accounting solution has been steadily growing in the United States. The cloud-based accounting software makes a lot of good choices that make it one of the most superior and complete accounting software available on the market. Below we attempt to review some of the salient features of Xero.
Reporting
Xero has one of the most sophisticated and detailed reporting mechanism on the market. It has the ability to arrange some of the critical data in a transparent and eye-opening fashion that does not require a lot of technical knowledge to interpret. It has some of the most conceptually solid accounting practices designed to be helpful to professionals and novices alike. Xero has garnered a lot of appreciation among the professional accountants due to its amazing reporting capabilities and all of this report strength comes from the solid technical base incorporated in the software. Compared to its competition QuickBooks and FreshBooks, Xero has a lot of sophistication in the reporting section.
Xero has a dedicated section called Advisor to provide you access to all kinds of reports and analysis, which ensure that you the detailed knowledge about the operation of your business. It also introduces some highly effective reports in the form of Performance, Pay run and business position that are highly useful.
Payment and Receipts
D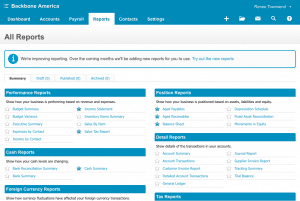 epending on different scenarios the strengths of Xero can also be its shortcomings. Contrary to some of the more popular application on the market, Xero lacks the basis automation that has become an essential part of the modern accounting solutions. A lack of automation increases the admin load and requires a lot of manual data entry that can be very time-consuming. Xero's interface is very helpful in relaying the basic understanding of how it works but requires a bit of time in getting used to. Although everything in Xero is customizable, every customization is based on the solid accounting concepts that ensure that the users do not stray from the tried and tested path.
Despite the lack of automation, Xero has the most solid double entry accounting base that ensures additional accuracy and long-term success. For those individuals that lack the basic accounting knowledge, the software also introduces professional access to make the transition as smooth for small business owners as possible.
Ease of Use
Xero has some amazing features to ensure a smooth transition for new users. It has a very comprehensive introductory setup process that adopts a very methodical approach to help the new users setup Xero according to their requirements. Contrary to all other major accounting solutions available on the market, Xero uses a conventional windows-based navigation system that makes it extremely easy to navigate. A user with a rudimentary computer knowledge can easily operate Xero after a spending some time with it.
One of the best features in Xero is its amazing dashboard that presents data in such a detailed and simplistic manner that no other accounting software can even come close to it. Its accounts section is very detailed and provides a solid platform for you to work on.
Customer service
Most of the help that a user may need can be easily found in the Professional Access section of the software that provides complete guidelines about different functions and features of QuickBooks. In addition, to this basic help feature this web based accounting software also provides users with agent-based customer service. Xero also offers 24/7 support. Overall Xero is able to provide a decent customer service experience guaranteed to help the users through any kind of trouble.
Final Thoughts
Xero excels at some things but falls short on some other things. It lacks a proper pricing structure along with a proper inventory tracking system that might be off-putting for some inventory-based businesses. But it's amazing reporting capabilities combined with the solid double entry mechanism make it one of the most conceptually sound accounting solutions on the market. It also carries some amazing features such as Asset register and minimal inventory support that make it a complete accounting solution for all kinds of businesses and environments. Leaner and faster than nearly all of its competition Xero is a great solution for a small or medium sized business.
Pricing
All accounts come with 30-day no credit card required free trial and the following features:

| Invite Unlimited Accountants & bookkeepers to access data | Unlimited, free 24/7 support | Secure, automaticbankfeeds |
| --- | --- | --- |
| Easy conversion from Quickbooks to Xero | Import data from QuickBooks, Excel, Sheets, or CSV | Prepare W2s & 1099s |
| Export Easily to tax software | Categorize your income and expenses using class tracking | Track sales & profitability for each of your locations |
| Monitor your finacials with a number of cusomized business reports (100+) | Automatic and secure backups | Highest-level SSL security encryption |
| Free iPhone Andriod apps |  Unlimited Users | |
As of the date of this post, Xero has a special 6 month introductory offer if you use the links below with the promo code: 30XERO6M.
Features

Starter

$9 $6.30
first 6 months

Standard

$30 $21
first 6 months

Premium

$70 $49
first 6 months

Create & send quotes & invoices
Create & send 5 invoices
YES
 YES
Enter & pay bills
Enter 5 bills
YES
YES
Reconcile bank transactions
Reconcile 20 bank transactions
YES
YES
Payroll
Payroll for 5 employees
Payroll for 10 employees
Create customizable purchase orders
YES
YES
Federal and state e-file & e-pay
YES
YES
Payroll direct deposits and checks
YES
YES
Deal with multiple currencies
YES