LivePlan Software Review: How to get started on a business plan
According to a study conducted by Palo Alto Software, entrepreneurs who write business plans are 50% more likely to succeed. With the failure rate of small businesses being 9 out of 10, this is a big deal for entrepreneurs. However, many don't know how to get started on a business plan. Last year, I came across a piece of software called LivePlan, which help entrepreneurs tackle the task of writing a business plan to increase their chances of success. Below you'll find my LivePlan Software Review.
Overview
LivePlan is a business planning software developed by Palo Alto Software, based in Eugene Oregon. The company has been around since 1988 and quite a bit of experience developing business planning software. It's probably best known for their Business Plan Pro product line.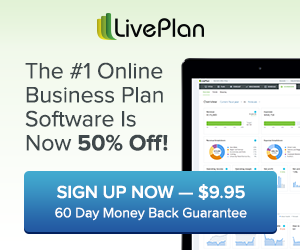 Whereas Business Plan Pro is a desktop application for the PC, LivePlan is a fully online application. As such, it can be used with any operating system and does not require a download. Though all the data is stored on the LivePlan website, the application does provide the options to download or print to a PDF or DOC file.
LivePlan has 3 main features it boasts about:
Strategic Planning – the main business plan section
Investor Pitching – a condensed business plan used for attracting investors
Progress Tracking – a measurement tool
LivePlan treats the business plan as an organic document. Whereas some businesses will develop a business plan and forget about it. LivePlan encourages owners to revisit the business plan on a systematic basis, not only to check the progress, but also make changes as the business evolves.
My Experience
I attended the ASBDC conference last year and signed up for the LivePlan certification simply because I wanted something to do for that day. I spent about half a day learning about the features of LivePlan in a lecture setting. From there, I was given access to a membership with instructions to progress through the application in order to complete my certification. So my experience is partly based upon the certificate program, which I completed and setting up an entirely new company from scratch.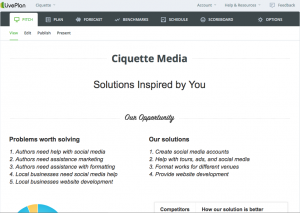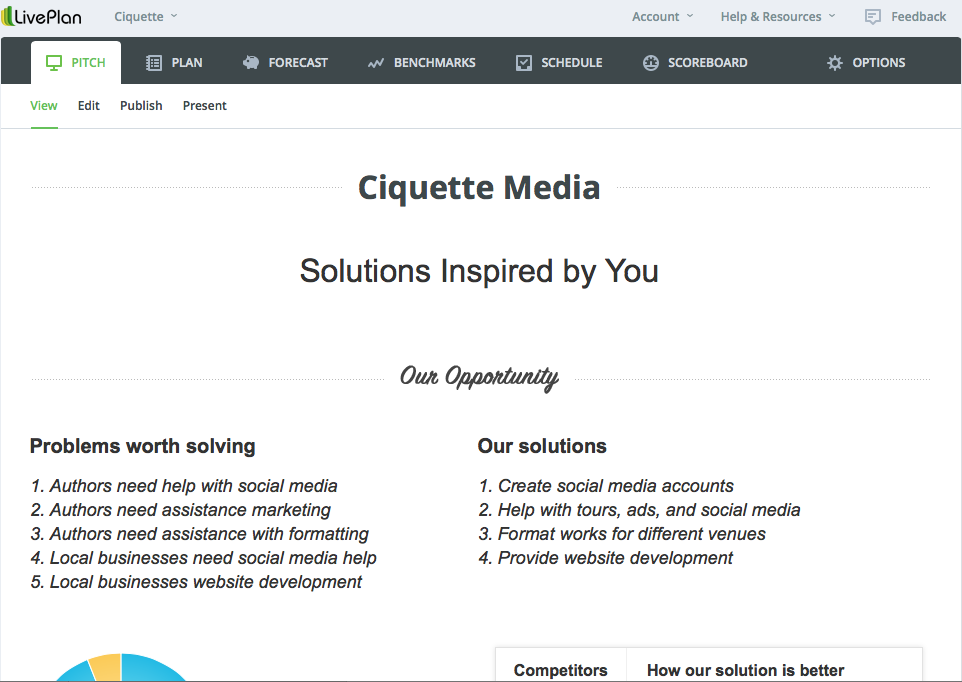 Pitch. I started with the pitch, as that was the first tab and began working through it. The software works as a sort of wizard. It guides you through each section, allowing you to save and return to each part as needed. I enjoyed the pitch the most, as it was very easy to move through each section and very systematic. One feature I think is a benefit to the pitch section is it limits the number of character. The idea behind the section is to create a short document that can be presented quickly, while capturing the key points of your business. By limiting the number of characters, it forces the user to be concise. I image some would find the character limitation stifling. However, there's always the business plan section for those who want a longer narrative.
The pitch covers 13 key areas to include the company name and logo, a headline to describe the core value of your company, a problem worth solving, the solution, identification of the target market, identification of the competition, funding needs, sales distribution channels, marketing strategy, quick forecast, company milestones you plan to reach, identification of key personnel, and the partners and resources to help you build your business.
Though there are quite a few pieces, I worked through them very quickly. The most difficult piece for me was identifying my target market. The software offers a few free tools to help identity the target market and determine the numbers associated with the market. However, I struggled to find substantial data in the tools for the particular business I decided to go with, which was a graphic design business.
Regardless of if one uses LivePlan, someone doing market research would face the same difficulties. I think the biggest issues is LivePlan offers the free tools, as if they tools are highly helpful. In actuality, the tools give minimum data, and typically not enough to complete that section.
As I mentioned in the overview, this product has the ability to print or download your efforts. What I like about the software is it provides a variety of templates, so you can get the right look for your particular company.
Plan. The next section is the plan. As I mentioned, the plan section allows for a longer narrative. As far as I can tell, there's no limitation to the amount of words you can add in this section. Again, this section takes you through the different parts of your business plan in a wizard style. One thing I did not like about this section was the information from the Pitch did not flow into the Plan. As a result, you're left with copying and pasting, if you want to use the same information but flesh it out or starting completely from scratch. Since the pitch and plan are so correlated, I think that's a missed opportunity in the software. Other than the lack of integration between those two sections, I think the planning section is great.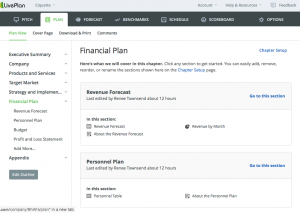 The plan includes six main sections, which are further broken down into subsections. The main sections include the Executive Summary with the suggestion to complete last, as it summarizes the entire business plan; the Opportunity, which addresses the problems people face and the solution your company provides for the problem; the Execution, which is the marketing strategy to get your products/services in front of your target market; the Company, which provides an overview and details about key personnel; the Financial Plan, itemized revenue and expenses; and an Appendix for supplemental documents.
One of the most beneficial pieces I think for those looking for funding is the feature to create your own financial plan. Though I stress the importance of having a business plan, most banks I've worked with are happy if the entrepreneur can articulate their business project and come prepared with a good set of financials. LivePlan provides both of theses, in the Pitch then the financials in the Plan.
The financial section allows you to enter an itemized account of your revenue and/or expenses or provide totals. One limitation I found for the financial piece was it only allowed the user to enter the expenses/revenues as a constant or manual. I would have liked it to be a little more sophisticated in this area, as most businesses are seasonal. For a seasonal business, the user would need to enter the numbers in manually.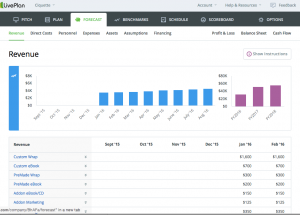 Forecast. The information from the financial section of the plan autocompletes the Forecast. The bulk of the Forecast is an overview of all your financial data (Revenue, Direct Costs, Personnel, and Expenses), but presented in a more organized fashion. Here you can also tweak different areas, such as adding additional revenue streams, direct costs, operating expenses, etc. Love it!
Beyond the organized overview of the financial plan data, there are also a few more sections, like a section to enter company Assets. That is, long-term items you plan to purchase for your business. For example, a computer or building would be included in the Assets. It even depreciates the item based on a specific time period. The Assumption section deals with payables and receivables, which can have a huge effect on cash flow. I find a lot of business owners overlook the consequences of not managing payables and receivables properly. Another editable section is the funding portion. It covers loans, lines of credits, investments, and other types of funding sources. When I do projections for my clients, I often mention creating a funding package for them, so they know all the different sources that will fund their project. LivePlan helps them create a completely funded project themselves in this section.
Once the final pieces of the financial puzzle are added, LivePlan consolidates the data into a Profit & Loss Statement, Balance Sheet, and Cash Flow Statement. Again, these sections allow you to tweak the financial packet from each of the screens. If done correctly, I consider the results excellent to present to the bank and/or investors. In fact, we've considered encouraging our clients to use LivePlan rather than creating the financials for our clients. Why? Because it gives clients the opportunity to really understand their financials. I talk more about this in another post.
Benchmark. Being able to benchmark your company is an important piece of financial analysis. Here, you're able to see how your company fares against the competition when it comes to gross margin, operating margin, and net profit margin. Personally, I think this section could be improved upon a bit more. Those statistics are great. However, I think other benchmarks would be beneficial. For example, I mentioned payables and receivables being important factors in cashflow. Having benchmarks for those areas would help a company determine where they're out of line a work on adjusting their payable and receivable rates. I'd say likewise for the benchmark for inventory turnover, debt to income ratio, and others.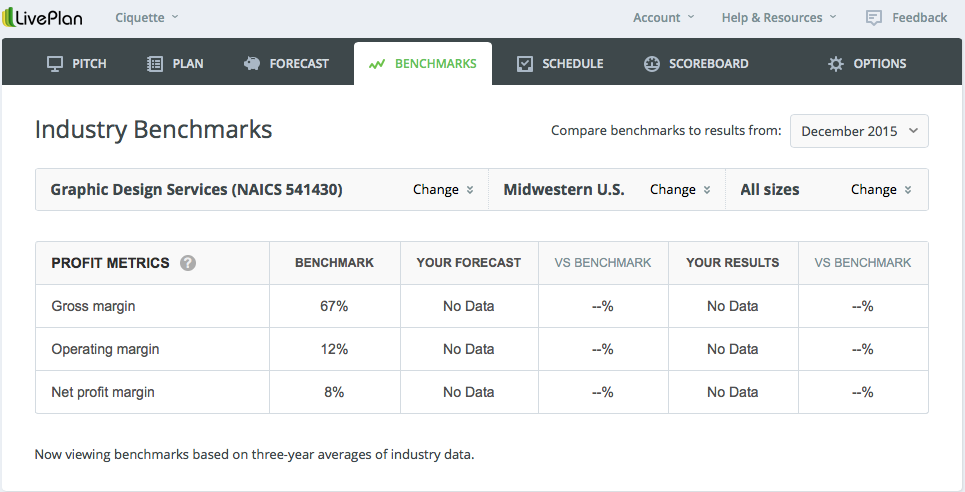 Schedule. I mentioned milestones in the pitch and plan. In this section it shows the milestones, including those that are delinquent. The milestones act as goals and are beneficial, as they can help a business owner stay on track with the company's progress.
Scoreboard. The last section of LivePlan (other than the option settings) is the Scoreboard, which offers and overview of the entire financial plan. This is also the section where you can connect your accounting software, such as QuickBooks, QuickBooks Online, Xero, or even manual entries. This integration allows you to keep their LivePlan financial data up-to-date with the financial information tracked in your particular accounting software.
My Overall Thoughts
I find LivePlan to be a valuable tool. It's not perfect, as you'll see in my comments above. However, it can help you develop a thorough business plan. In addition, the business plan you create through LivePlan is not static. So, you can make updates to your business plan at any time and should at least review it periodically.



When I think of the tools we use for business plans in my office (fill-in-the-blank and a template), I find LivePlan to be the more sophisticated method. On top of that, it's also the most educational when it comes to financial projections, as the user is responsible for creating their own projections instead of me. This may result in a more economically sound company with more aware business owners.
One thing I will mention is you can have multiple companies created in LivePlan. However, you can only have on company active at a time with the other companies archived. You do have the option to buy additional accounts though. I'm not quite sure what the cost to upgrade for more accounts or users, but they do have corporate accounts. They encourage you to call for upgrades.
LivePlan also comes with a feature to collaborate with others. You can have up to 2 users per account, which have access to make modifications plus an unlimited number of viewers called Guests.
Options Graded
Business Planning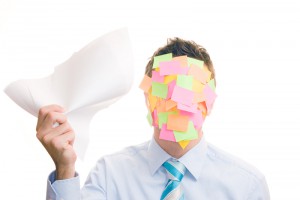 There are less sophisticated ways to create a business plan. For instance, my company starts clients out with a fill-in-the-blank business plan that covers the major points. It's not pretty looking, as it's a fill-in-the-blank. However, it helps our clients gets their thoughts on paper. If they need a professional business plan, we then provide a template. The finished product is pretty decent looking. One tool LivePlan provides that our fill-in plus template doesn't is thorough instructions. LivePlan provides a step-by-step process with walkthrough instructions to help the business owner complete the plan. Plus, they have the ability to customize the final look of their business plan, where ours is just a plain template. Is it worth a monthly fee to use LivePlan? I'd say that certainly depends on the business. LivePlan makes the business plan always readily available and easily modifiable.
Regardless of the cost, the business planning tool is excellent. My only gripe is that it doesn't pull from the pitch.
Pitch Creation
The Pitch is my favorite part of the entire program. When I think of finding investors or even that first initial visit to the bank, the pitch comes to mind. It's simple, concise, and straightforward. As a result, it pushes entrepreneurs to write in the same manner. I can see an entrepreneur putting together their pitch in LivePlan, walking into the bank and knocking the socks off their lender. The only real complaint I have is that I feel LivePlan under delivers with the their list of third-party tools. However, my perspective on this may be because I went to the LivePlan training, where they sold me on the industry tools. My company at the time was looking for affordable industry tools, and I thought this would provide it. When actually, it's a list of free, less than effective tools we've scoured in the past. Since you probably didn't get the same presentation I did, your expectations may be different.
Progress Tracking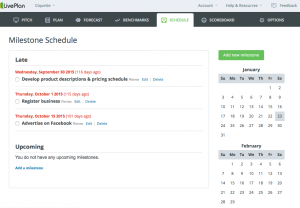 I'll be honest. I'm a little less familiar with tracking portion of this application, for 2 reasons. First, it connects to your accounting software or you can manually input the information. I have QuickBooks, but I'm on a Mac and the Mac version doesn't integrate with LivePlan. An alternative would be to track my accounting through Xero or QuickBooks online, neither of which I'm up to using at the moment. Perhaps in another review. I did manage to create a rudimentary QuickBooks company  at work to interface with LivePlan. It was quite simple to do, but my company had no data, so that didn't help too much with the progress tracking. Second, the company is fake, so I had no consistent data to make comparison or contrasts on the tracking side.
Even though my experience was limited, I can still share what I learned. Above all, interfacing with quick and easy. And though I don't have data, it was easy to see how my company was doing because the Scoreboard compared and contrasted my projections against the actual data in my accounting software. I liked that the Scoreboard used a variety of methods to tell the story. For example, it provides actual numbers, as well as charts and graphs for those who are more visual learns. I'd mentioned the importance of understanding payables vs receivables. Here, you also get an idea of the number of days for turnover in those areas. It doesn't provide you the benchmarks, but it does provide you a starting point in terms of ongoing management.
Ease of Use
Though there's a lot to this program, the step-by-step wizard/guide makes it easy to use. I have more a caution than a complaint. Writing  a business plan takes time and effort. If you're looking to get through the business plan in one day, you'll probably frustrate yourself. It's possible to complete the Pitch in one day, if you have the industry data at hand. However, a good business plan is going to take some time regardless of the method or program you use. Still, the wizard is pretty easy to step through. I did have some difficulty when it came to inputting the expenses and revenue properly, but other than that, everything else was a simple process.
Customer Service & Support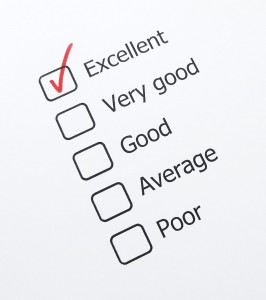 Palo Alto is constantly working to improve LivePlan. One of the great features introduced to me during the certification class was the feedback form. I've used plenty of times. I've asked questions about the different features, to include where they are, how to use them, and the functionality of them. I've also made some suggestions (not that they have to implement them), such as pulling some of the data from the Pitch into the Plan. Their online response time is quick, usually within a couple of hours. Though I haven't tried to call, you can also reach them by phone during their normal business hours: Monday through Friday, 8 am to 5 pm Pacific Time.
Pricing
During my LivePlan certification class, they talked about their pricing model. They mentioned a lot of companies have a try before you buy or freemium platform. They decided not to go with either of those models, as they believe users are more vested in a product they purchase. However, you can receive a 50% discount by following this link (at least at the time of this review).
Monthly
Annual
Discount
$10 off 1st Month
40% Discount
Cost
$19.99
$139.95
Users
Up to 2 Users
Up to 2 Users
Active Companies
1
1
Need more Users/Accounts/
Companies?
Contact LivePlan
Web-Hosting or Locally Installed
Information is stored locally on liveplan.com. However, you can still download your Pitch and Plan in an eye pleasing format.