Freshbooks Review: #1 Accounting Software for Small Business
Sometimes I read through my past reviews and think, how is anyone going to get through this? So, I've decided to change things up a bit with my Freshbooks review. I've simplified it a bit so it's an easier read. So, let's look at this accounting software for small business.
Company Overview
FreshBooks is a Canadian based company, founded by Mike McDerment in 2003. Prior to 2003, Mike had been creating invoices with Word. That January, he accidentally overwrote one of his invoices and found himself inspired to develop a better way of accounting. Thus, FreshBooks was born. FreshBooks is the #1 accounting software for small businesses and #2 in the United States, after QuickBooks.
The Challenging and changing business environment in the modern world calls for a simple, interactive and flexible tool that can help the small and medium-sized business owners keep track of their activities. FreshBooks is one such cloud accounting solution. The biggest benefit of having FreshBooks is that it does not weigh you down with too much complexity or data. The users have the capability of selecting what they wish to see and how they wish to see it. Below covers some of the key features of FreshBooks.
Invoicing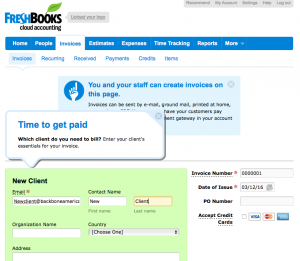 The biggest boasting point for FreshBooks is its simplicity and ability to do more without requiring a lot of inputs from the user. Integrating simplicity and intuitiveness, FreshBooks enables users to create customized invoices with their own logos and prices. FreshBooks reduces the administrative burden by introducing the Auto-invoicing feature that can be used to create recurring invoices automatically. This automation enables users to direct their focus towards running their business rather than keeping records of it.
In addition to creating and managing invoices, FreshBooks also assists users with getting paid. The credit card acceptance feature is easy to use and very effective for a small- or medium-sized business. Using the mobile feature of FreshBooks, the users can create and send invoices electronically, no matter where they are.
Managing Accounts Receivables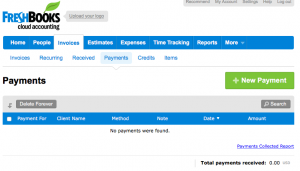 Invoicing and payments go hand in hand. When it comes to handling payments, you may struggle to find software that beats the flexibility and capabilities of Freshbooks. It is an ideal platform to receive payments from your customers in a hassle free and painless manner. Freshbook's ability to handle payments from and through all major credit cards make it an awesome tool for your accounts receivable guru or bookkeeper. It also provides clients the ability to pay their invoices through their mobile device or credit card in a very easy manner.
All the payments made are securely deposited in your bank account without any issues. In addition, to receiving payments, Freshbooks also provides you with detailed reports and analysis about how your customers pay and where the money is being accumulated based on line items.
FreshBooks also includes an auto-billing feature that allows you to set up automatic payments for recurring customers and clients. Finally, FreshBooks has a tracking feature that allows you to monitor the funds receives and unsatisfied accounts receivables. With proper setup, any payment that the users make through their credit card or bank account is automatically recorded in Freshbooks without requiring any manual entry.
Expenses Tracking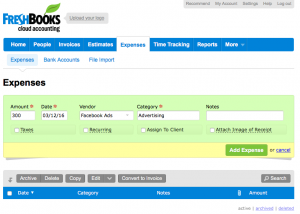 The biggest issue with most accounting solutions is their lack of ability in handling different bills and papers. Freshbooks introduces some nifty tools that help users to painlessly keep track of bills and receipts. The snap feature can be used to create a backup for all your receipts and bills in a single location. It can also load all the expenses directly from the bank account or credit card, eliminating the need to manually enter everything.
In addition to helping users keep track of their bills and receipts, it also provides detailed analysis report, which can be greatly helpful in understanding where the money is being spent and how it is affecting the profits. These handy tools make life a lot easier for the business owners and accountants.
As a side note, I read FreshBooks does not integrate with Shoeboxed due to some integration issues they were unable to solved. Even so, files can be imported/exported between the two platforms, using CVS files.
Reporting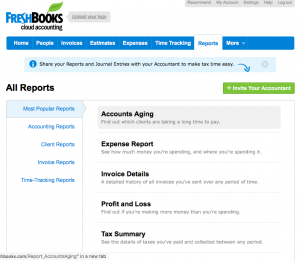 Reports are key towards understanding how the business is performing. Reports also help business owners determine the actions that need to be taken in order to grow a business to the next level. Compared to many other solutions on the market, Freshbooks provides a highly intuitive, flexible and simple reporting mechanism. The software comes with a plethora of different reports that users can generated with a single click.
Freshbooks also has a collaborative feature, which allows users the ability to send the entire company file to the accountant. This feature allows accountants to make the necessary adjustments to reconcile accounts, as well as keep the records up to date and relevant for the tax authorities. All of these features combine together to create a hassle-free reporting experience that is highly valuable to a business owner.
Customer Service
As I've mentioned in the past, Customer Service is huge to me. A product can have all the bells and whistles, but when something breaks and customer service is non-existence, all the show is for naught. FreshBooks's normal business hours are 8 am – 8 pm EST. However, they also have toll-free numbers available for the US, Australia, UK, and Ireland. FreshBooks can also be reached via the contact form on their webpage and email. What I find fascinating about their customer services is their willingness to helping small business owners setup FreshBooks, and even assists owners in finding qualified accountants.
Final Thoughts
FreshBooks is a complete and high-quality accounting solution for small and medium sized business. It includes some amazing features that greatly reduce the administrative burden of the users. Its report-generating ability simplifies the bookkeeping process and provides users with detailed analysis about financial aspect of the business.
One of the greatest benefits I find in Freshbooks is its flexibility. The platform is cloud-based and can be controlled from anywhere in the world you have internet capabilities, while mitigating security risks.
The only issue that some users may experience would come in form of its inability to handle large Inventory volumes and complex billing scenarios. If your business does not require maintenance of complex or integrated inventory records than Freshbooks is a great choice for a small and growing business.
Pricing
All accounts come with…
No setup fees or contracts

Award winning email & phone support

Security Safeguards
Customized & branded invoices

Identify customer viewed invoices

Recurring invoice profiles
Credit card acceptance

Host of integrations

Completely cloud-based solution