Woman Crush Wednesday #WCW
Since I first started Backbone America as a business, I've met some amazing women. Some of these women have reached the status I'd like my business to be one day. Others have started their business with a fearless passion that's completely foreign to the well-planned, highly structured boxes I tend to live in. The women I meet inspire me. I'm sharing these women with you.
On Wednesdays, I'll be doing a version of Woman Crush Wednesday. A little about Woman Crush Wednesday. It originated on twitter with the hashtag #womancrushwednesday. The hashtag is used to highlight attractive or admired women. At Backbone America, we admire women who have what it takes to run successful businesses. I'll be conducting interviews with this woman, so you can form your own crush on these awesome women.
Interviewing Kimi – Kimi's Food Services
Backbone America: What business services and/or products do you provide?
Kimi: My business is catering, Food Trailer that provides food for private events and festivals. I also create logos and do T-shirts, jackets, truck decals, and window clings.
BA: What did your life look like before you started your business?
K: Prior to becoming a business owner I was in corporate America working for others. I felt stuck working in a world for others on a time crunch constantly striving to meet goals and deadlines. My daughter was diagnosed with rare cancer and I was told I had 19 people under me I needed to make this short and get back to work as quickly as possible…something inside me started the hard drive to have flexibility in a family crisis and I realized becoming a business owner was a very logical goal.
BA: Tell us about the moment you decided to become a business owner?
K: When I purchased my business I was on top of the world and terrified. The excitement drove me to try new and create better business options to be successful.
BA: What was your first big win that made you think, yes! I'm on the right track?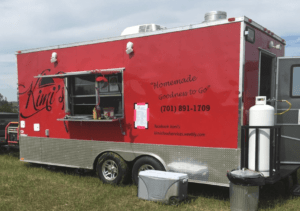 K: Due to circumstances beyond my control I was forced to close my first business. It drove me to plan and work on the real love of my life…food business. I had a great Business Advisor Renee Townsend who helped me get everything in order to present my plan to the bank and successfully get my loan and business off the ground.
BA: What's was the biggest challenge you had to overcome to get to where you are today?
K: Fear has been my biggest challenge…fear of failure…fear of meeting cash flow goals…fear of keeping a good reputation.
BA: How did you overcome that particular challenge?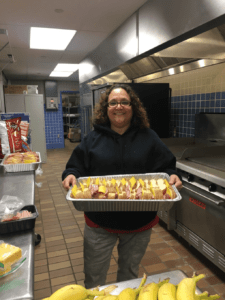 K: I overcame fear by believing in my dream, working my plan, promoting my business and having a positive attitude. Plan your dream and believe in your dream is a vital force to being successful!
BA: What advice would you like to share with other entrepreneurs?
K: I believe getting a business coach to help you with your dreams and creating the ways to make your dream a reality is vital in being successful.
BA: Who has been your greatest source of inspiration and why?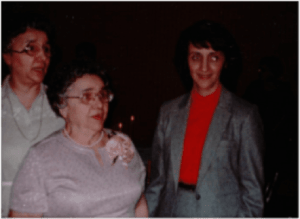 K: My Grandma DeGrace is an inspiration to me being successful in my food business. My Aunt Dolly has been a huge encouragement to keeping my business goals on track and being real about the struggles in business because she had a business for about 35 years. My Grandma, Aunt, and Mom were very good cooks and I am blessed to come from a long line of great cooks. An encouraging support system is a great help in being a successful business owner!
About Kimi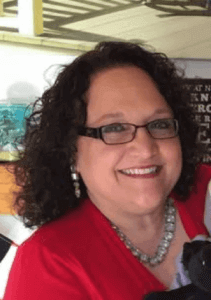 I moved to North Dakota from the Chicago area as a teenager and have lived here for about 27 years. My heritage is Italian-American, which is where my love of cooking got started. Living in ND for so long, I have learned to cook many German recipes as well.
I come from a long line of good cooks—my Grandma DeGrace, Aunt Dolly, and of course, my mother. I remember spending summers with my Grandma, even as young as four years old, and being on her step-stool wanting to cook. Looking back I imagine I drove her crazy! When I was ten my mom went to work full time and left recipes for me to make for supper each day after school for the family. Learning from trial and error gave me the courage to try new recipes…decide what works and what doesn't.
Many of my family recipes are more than 80 years old. My homemade spaghetti sauce recipe is one perfected by my Grandma and Aunt. I still consult my mom and Aunt Dolly on old recipes. One of my dearest treasures is a cookbook with handwritten recipes from my Grandma. She always said to me, "Kimi you can do anything you put your mind to." Sometimes I would call her just to hear her remind me of that. And hear her laugh at things I told her…she had a great laugh! She immigrated from Italy as a young child with her family. My Grandma had a 3rd-grade education but was far wiser than most college graduates I know.
I love to cook and create food. If I am in a bad mood…just cook and it goes away. Best of all, I enjoy hearing people tell me my food is delicious.
Where to find
Website: http://www.kimisfoodservices.weebly.com/
Social Networks