US Business Funding Workshop
Over the past couple of years, I've talked with quite a few entrepreneurs about their need for US Business Funding. Like you, they have fantastic business ideas. Yet sometimes those business ideas are costly.
Working with me personally to obtain US Business Funding for your company can cost thousands of dollars.
For some, the price tag can be discouraging. I'm not here to discourage anyone. I want us all to succeed.
As Paul Wellstone said
"We all do better when we all do better."
That's why I've been working diligently to put together a program that's affordable for just about everyone. It's called….
Get Your Business Funded
10X Your Money in 8 Weeks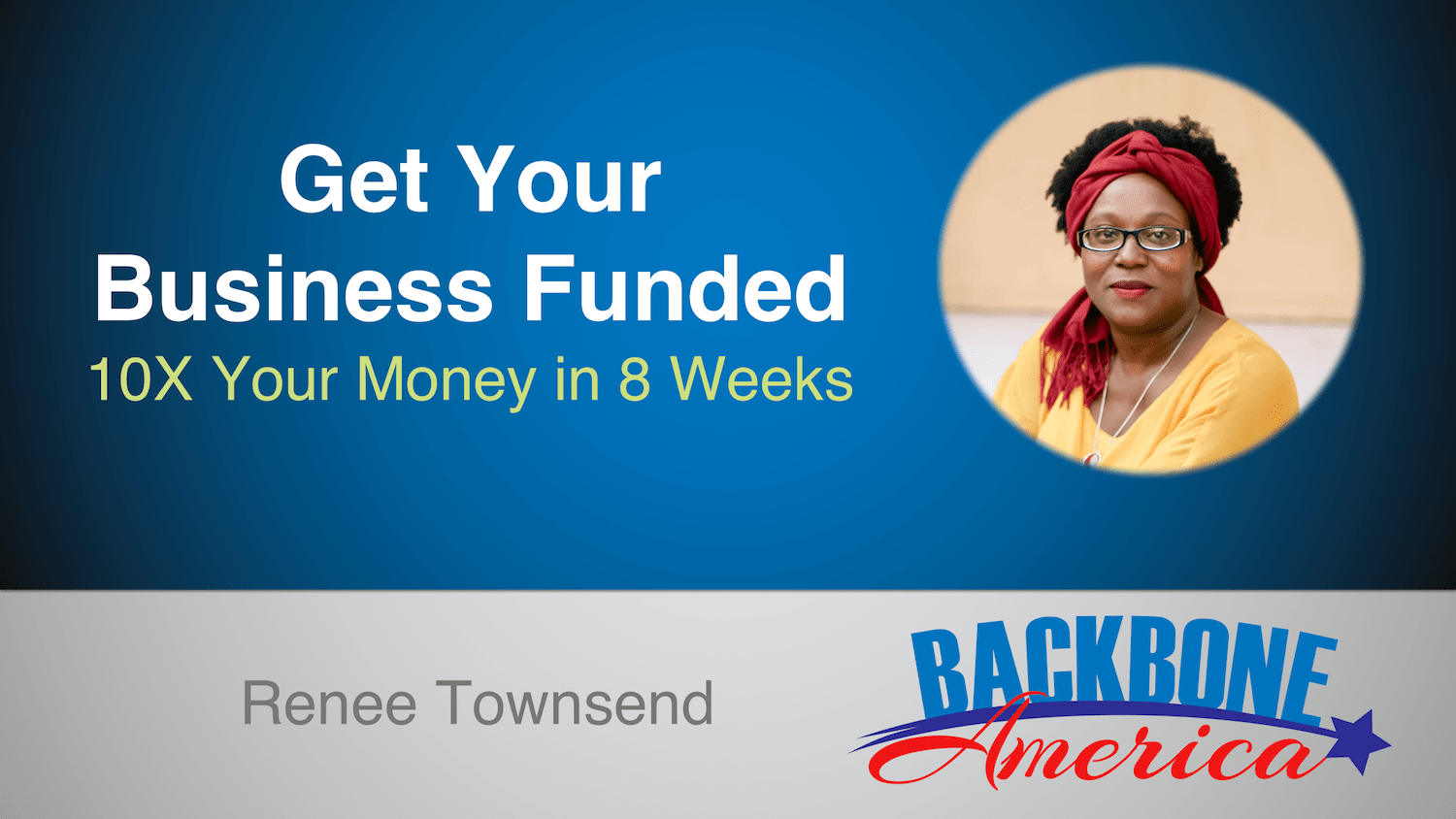 In this self-paced program, I walk you through the US Business Funding process, so you can:
Assess your financial position
Remove barriers to funding
Position yourself for funding
Find funding opportunities
Leverage your money
For a limited time, I'm offering an Early Bird Special
REGULAR $299 | EARLY BIRD SPECIAL JUST $99 (GET 67% OFF!)
Program Details:
Week 1: Assess the Situation
During this week, we'll look at how prepared you are to obtain funding and how to improve your financial position.
Week 2: Document Company Basics
Much of the information we cover in this week is already in your head. Now it's time to put it to paper.
Week 3: Identify Marketing Strategies
Having money to start your business isn't enough. Investors want to know how you'll make more money. During this week, we'll do just that.
Week 4: Develop Financial Projections
A profitable business all comes down to the numbers. In week 4, you'll show how you make your business work financially using easy-to-use spreadsheets.
Week 5: Finalize Business Plan
All the previous work you've done over the week comes together here. You'll take all the information and number crunching and put it together to create a Business Plan and One-Page Pitch. Best of all, I provide you the templates provided!
Week 6: Gather Supporting Documents
By week 6, you're just about ready to make the big ask! You'll collect a few stray pieces of information that'll shore up your application.
Week 7: Research Funding Opportunities
Awesome that you're prepared to get funded, but where do you find the money? I'll show you in week 7. This is where you'll uncover easy to miss sources of funding and prepare to tap into them.
Week 8: Submit Funding Applications
We wrap up the 8 week training program with the application process. I'll share with you tips on how to increase the chases of getting your applications approved. When I found out some of these strategies, they even had me asking, "You can do that?"
BONUS Week 9: Best Practices
There's more to funding than getting funding. Not only do I want you to obtain the money you need for your business, I also want you to succeed with it. That's why as a final gift, I'll provide you with some best practices to consider for when you do get funded.
END THIS YEAR WITH A BANG!
A lot of us tend to waste the last few months of the year. Don't do that. Let's bring the New Year in right. Snag your early bird special and save $200 OFF the Regular Price.