If you look online, you'll probably find quite a few work-from-home careers. Not all of them are worth the time and effort. For example, I see doing surveys as the top answer for most lists. The time it takes to complete a survey might earn you pennies an hour or worse, sap 30 minutes of your time through pre-qualification questions and knock you out of the survey with nothing to show for your efforts.
Today, I have more than just a list of work-from-home careers. I'm also going to give you some ideas on how to get into these fields.
Petsitting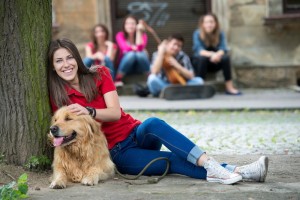 Lately, some of my neighbors have been complaining about sad animals being left at home during the day. The animals may bark and whine excessively, be kept in less than ideal locations throughout the day, and sometimes even go missing. What these animals really need is a bit of love an attention during the day.
Do you love animals? Do you have space to care for them? What about the time to keep them company? Then maybe running a doggy daycare is the thing for you.
Where to find clients
You can search online and enroll in a service that connects sitters with clients. Online services tend to have easy signup procedures and loads of individuals looking for your services. However, it can be difficult to stand out.
Get a booth at a trade fair. Trade fairs (shows, exhibitions, expos, etc) offer a lot of visibility. People are coming to see what vendors are offering, which gives you an opportunity to collect contact information and get your name and face out there. Trade fairs can be costly, take planning, and a bit of setup. If you're well-connected or look in the right places, you might be able to get space for free. I suggest you always bring a friend or someone to help man your booth.
Visit a trade fair. Trade fairs are generally less costly to attend than it is to set up a booth. Treat the trade fair like your venue and bring lots of business cards and a sharpie. Makes sure the introductions are two way. You learn about the vendors' businesses and tell them what you do. Collect their business cards and use your sharpie to identify likely clients. Be sure to enter them into your database, so you can keep them posted with information about your services and petsitting trends. Above all, don't forget to follow up!
Distribute your business cards around the neighborhood. A stack of 500 business cards (printed both front and back) might cost you $30. Consider venturing into apartment complexes and condominiums. Due to the nature of complexes, these pet owners often have little room for their pets, who could benefit from a bit more freedom.
Virtual Assistant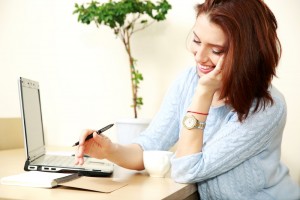 As one who started one of the work-from-home careers herself, I realized very quickly that I couldn't do everything alone effectively. Even if I was efficient, there just wasn't enough time in the day. I hired a virtual assistant (VA) to help with some of the more repetitive tasks and even tasks I preferred not to do. Virtual assistants can handle a variety of tasks and even more if you're willing to train the right person. For example, my VA has done data entry, mailings, transcription, social media, research, SEO, and so many other tasks that have saved me so much time.
If you're a quick learner, have great administrative skills, and simply want to be someone's lifeline, then becoming a Virtual Assistant might be your thing.
Where to find clients
Join online services or visit trade fairs. (see above)
Join a chamber of commerce or two or three. The chamber of commerce is full of business owners, mostly small business owners. It's the trend for small business owners to try to do everything on their own. They get overwhelmed and see areas of their business lacking. Yet few seek assistance. This is your opportunity to offer what they need. They know they need it; they just don't ask. Be ready to present offers to small business owners who seem overwhelmed.
Join Business groups or business organizations. Same thing here as for the chamber of commerce.
Network. Let people know what you're doing and how you can help. You never know who knows someone who needs your services.
Consultant or Advisor
Starting a new venture is no easy thing. I read somewhere that you can fumble through a new project or skill alone or you can save time and have someone knowledgeable give you a boost. It makes sense. From the time we're young, we learn new skills from individuals (teachers) who know more than we do. Personally, I feel like a winner when I help someone succeed and I love offering the services that I do. When it comes to work-from-home careers, I have to put consulting and advising on the list.
Are you an expert in a particular subject area? Do you like to share your expertise, helping others gain the skills they need to succeed? Then maybe consulting or advising is your thing.
Where to find clients
A lot of the strategies you use to find VA clients can be used here also (chambers, business groups, networking).
Hang out where your clients are likely to be.
Give presentations about your subject area. These presentations can be live or recorded, in person or in webinars. They key is giving individuals a taste of you.
Create your own groups. Again, these groups can be in person or online. Joining a group of interested parties is great. However, running the group yourself gives you far more visibility and control of the direction you want to take the group.
*Special note: In person opportunities typically creates a better connection with potential clients than online or recorded interactions. Remember… just because you've chosen one of the work-from-home careers, doesn't mean you have to stay at home all the time.
Coaching
Though consulting and coaching can go hand-in-hand, coaching is a bit different. With consulting, you give direction, suggestions, and guide clients down a particular path. Coaching, on the other hand, works to help clients find their own paths. You, as the coach, help clients gain new perspectives, so they can be more confident in the decisions they make for themselves. The interesting thing about being a coach is you don't have to be an expert in the client's particular issue like is expected with a consultant, because the client is the expert. Your expertise is being able to help the client find the right answer for herself.
Are you a great communicator? When I say communicator, I don't mean you talk and others listen. Being a great communicator means you have superb listening skills and can detect underlying meanings. When you listen, you hear the truth or even hesitation that hides the truth. You're able to reflect what you hear in a way that enlightens and supports the client, without judgment. If that sounds like you, might give coaching a try.
Where to find clients
All the strategies to find consulting clients can be used here
Published Writer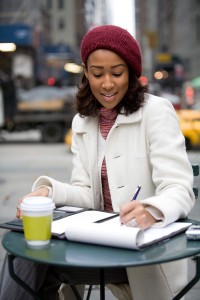 I only recently got back into writing. When I was a stay-at-home mom, I was big into creative fiction. I also spent a fair amount of time blogging. I slowed down significantly over the past few years and just now am getting back into the groove of things… this time with non-fiction. The key to getting your book off the ground is to start promoting before you even publish. In fact, I suggest that you start advertising the moment you DECIDE to write a book.
Do you love to write? Would you like other to read what you produce? Well, perhaps turning your writing into published works will hit the spot.
How to find readers
Write blog posts for blogs that share content that complements your works. Birds of a feather flock together are so true when it comes to genre.
Do a blog tour. Readers love blog tours. They will devour everything you share about your book, before AND after you publish.
Network with other writers of the same genre. In a lot of industries, the competition can be scary. With writing, the competition can be your friend. Their readers can become your readers and vice versa. A happy reader of a genre will likely seek other writers in the same genre. You want to be in that crowd of genre writers. There may even be cross-promotion opportunities.
Get to know bloggers who review and support your genre. Then engage with them. If you learn their likes and dislikes, you better be able to determine which bloggers to reach out to for your book promotions.
Finally, write comments on relevant blogs and don't forget to leave your blog address, if it's allowed. This creates a link back to your website and helps others, who find your comments interesting, find you.
*Special note: If being a published writer seems like one of the work-from-home careers that fit your need, schedule an appointment with me.
Blogger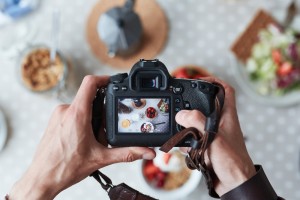 You're reading a blog now. You might even notice a bit of advertising here and there on my blog. Blogs can be a lucrative form of revenue and make great work-from-home careers if you know how to play the game. First and foremost, I recommend any business owner to have a website and a blog. The website shows potential clients you're legitimate and the blog keeps your website new and relevant. There are a variety of ways to monetize your blog. You can offer any of your services, be an affiliate marketer, sell ad space, or step out of the box and think of your own money-making idea. Keep in mind, blogging doesn't just have to be writing. It could also be video blogs, podcasting or other media.
If you have a topic your passionate about and want to share it with the world, you might try becoming a blogger. The key to being successful is knowing how to attract visitors.
How to attract visitors
Write awesome content that people want to read. Above all, nothing trumps content. The longer people want to stay on your website, surfing through the content, the better.
Promote your content. If no one knows your website exists, no one will read it. Get on social media and engage with interested parties. You might even consider advertising your website to give it a little bump.
Make sure your website and blog is SEO ready. Google and other search engines crawl through websites, looking for keywords. Work-from-home-careers, such as a blogger, is going to need the help of search engines to help spread the word for them.
Have a responsive site. By responsive, I mean your website and blog look great regardless of the device it's on (tablet, phone, computer screen). No one likes having to scroll from side to side when they're on their phone or tablet. Make it easy for your users.
Last but not least, make sure you get some speed on your website. People are impatient today. They're not going to wait a year and a day for your site to load, like the days of dial-up modems.
Leave comments on relevant blogs (see Writer strategy).
Social Media Influencer
I don't even know where to start when it comes to work-from-home careers and social media influencers. There are just so many opportunities. Social media has exploded, with very few holdouts left in the world. With a little bit of effort, you can find long lost friends and family, keep in touch with people on the other side of the world, make new acquaintances, and stay current with the news. Social media is remarkable and has made the world a smaller place. For those who play their cards right, there's even money on the table. Social media influencers can earn money through sponsorships, affiliate marketing, and even donations and tips.
If you enjoy engaging with an audience on a consistent and frequent basis, perhaps becoming a social media influencer is right for you.
How to build your following
Like bloggers, influencers need to share what people want. Think interest, educational, funny, entertaining. Share and create content others want to read and share with others.
Engage like it's nobody's business. People are constantly bombarded like it's nobody's business. They don't just want to be talked to; they want people they can talk to also. You don't have to answer everything, but don't act like a bot. Let people know you're a real person.
Network with other social media influencers. Engage with them online. If you're engaging with worthy talk, eventually you'll find them responding. When they do respond, it'll also increase your visibility.
Above all, influences are there. That means being consistent and frequent. It's not about chatting it up hard for a few days then disappearing for months. To be an influencer, people are looking for you to engage on a regular (daily) basis.
Creatives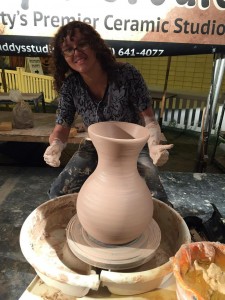 I, for one, am fascinated by artists. I dabble, just to say I can draw or paint more than stick figures. However, the creativity I see in others blows my mind. My daughter paints and does pottery. The more out of the box, the better. I have a friend who creates tiny houses on his property, which is just so cool. Being creative isn't just the typical crafts. It can be whatever you create.
Do you have a creative talent? Are you ready to monetize it? Well, perhaps it's time to take your creativity to market.
How to get your name out there
Get a booth at trade shows. This is your opportunity to show off your wares. I enjoy going to trade shows myself and seeing what people pull from their heads. One opportunity many artists miss is collecting contact information from those who stop at their booths. Take down names, phone numbers, and emails. Later, you can use this information to reach out and make additional connections.
Share your work online. For example, use social media to your advantage and connect with influencers who'll share your work.
Use online services to share and sell your artwork. I've mentioned online services previously. Again, you're part of the slush pile, unless you find a way to rise to the top. Pair online services with other strategies to increase your visibility.
Make sure you request positive reviews. People are more likely to complain when something goes wrong than they are to praise for services they expect. This makes positive views all that much more important to those starting work-from-home careers.
Tutor or Teacher
I consider myself a natural teacher. Teaching just seems to be something I incorporate into every profession I've taken. One thing that's great about today's technology is you can tutor and/or teach virtually. This means you never have to leave your home, which can save gas and time.
Do you love sharing your knowledge with others and seeing the light come on in your students' eyes? Well, consider tutoring or teaching.
Where to find clients
Sign up for many of the online services that connect tutors and/or teachers to students. As with other similar strategies, you may have to fight the slush pile. One way for entrepreneurs to increase their chances of turning this into work-from-home careers is to actively pursue students, rather than to wait for them to find you.
Seek business and organizations who might have a need for your services. For example, a Microsoft Office teacher might
Also, advertise your services at college or university bulletin boards. If you have access to elementary, middle, or high schools, you might present your services to administration.
Final Thoughts on Work-From-Home Careers
As much as I'd like to say everyone should give up their day job, work-from-home careers aren't for everyone. Additionally, it takes time and dedication in a way that is different from working for an employer. No one is going to be looking over your shoulders, intent on firing you if you don't do what needs to be done. Your pocketbook will simply suffer. 🙂 However, if you're looking to make a go at work-from-home careers, be prepared.
Last but not least, hop over to another post I wrote that gives you a few pointers on how you can work from home.