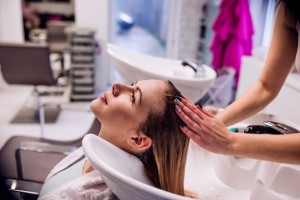 The last post talked about how to start a hair salon business. One of the key steps mentioned was the hair salon business plan. According to a study, companies with business plans are twice as likely to succeed, which is why it's so important for you to start your business on the right foot by having a plan.
Below you'll find a hair salon business plan example that you can use to guide you through the process of creating your own business plan.
Flipz Hair Salon
Business Plan
Hannah Baker (Owner)
Executive Summary
Introduction:
Flipz Hair Salon is a mini-scale unisex salon located in Beaufort, South Carolina. Beaufort is a beautiful town full of good and exciting people. With a population of over 13,000 residents, Beaufort is a good target for a hair salon business. Flipz Hair Salon will provide high-quality services with a focus on natural and organic products. It will engage clientele and build personal relationships through interactions and loyalty programs.
The hair salon will ensure that its customers derive utmost satisfaction from its services, by delivering first-class salon grooming services, selling quality natural and organic product, and also creating a comfortable business atmosphere where customers can interact and communicate freely with each other.
Delivering quality hair services and becoming profitable is the core of our business, but beyond that, we will create a friendly atmosphere where customers can come in and connect with other customers.
Product:
Flipz is considered a mini-scale hair salon and will provide hair services to men, women, and children. Styling the hair of our clients to their satisfaction is of paramount importance to us and the variety of products and services we offer gives us the competitive edge over other salons in the community.
Clients on a time crunch can book appointments through phone calls, while other services will be rendered on a walk-in basis. We will operate a roster structure that ensures that walk-in customers are attended to in the order which they arrive.
The products & services we offer include:
Hair care: Shampoo & conditioning, cuts, styles, highlights, scalp treatment, perms
Fingernail care: Manicure, pedicure
Shaves
Products: Haircare, scalp treatment, hair accessories, wigs
Rental services for licensed cosmetologists
Future Projections:
By delivering moderately priced organic and natural products, Flipz will attract a significant portion of the hair salon market in the area. Within the first three (3) years, we would expand the business to accommodate more customers and increase the services offered to include massage, waxing services, and a spa. We would also establish branches in near communities to extend the reach of our business.
We will also request feedback from our customers to determine ways we can improve our services
Company Description
Mission:
Flipz Hair Salon will prioritize the satisfaction of its clients by providing the high-quality services whilst considering the growing awareness consumers have about subjecting their bodies to unnatural chemicals.
Key People:
Hannah Baker – Owner and Master Stylist (Co-Founder)
Bryce Walker – Business Manager
Legal Structure:
Flipz Hair Salon is a Limited Liability Company (LLC) owned by Mrs. Hannah Baker. The name Flipz Hair Salon is a trademarked name registered in South Carolina.
Market Research
Industry:
Hair salon industry helps people to look good by providing a variety of hair care products and styling services.
The hair salon business is generally very lucrative. As of last summer, the industry generated a mind-blowing $40 billion in total revenue. Small salons contributed more to this industry with the 50 largest salons bringing in just 15% of this reported amount. Revenue in the salon industry is forecasted to increase by about 3.3%.  This is a positive indication of the sustainability of hair salons, including Flipz Hair Salon.
From research and survey targeted at residents of Beaufort, we have recognized the need for a salon that provides flexibility and quality hair care products to its customers. The female participant estimated spending $600 annually on average cosmetology services, while male participants averaged $350 annually. An overwhelming 82% of people reported having significant concerns about the chemicals they put into and on their bodies.
Flipz Hair Salon will play an important role in the hair salon industry. According to Grand View Research, the global revenue for organic hair care is anticipated to rise at an annual rate of 9.8%. This makes the organic haircare industry an opportune time for Flipz.
Detailed Description of Customers:
Being a unisex salon, Flipz will provide services to men, women, and children. Our survey results showed men tend to seek services during the work week (Monday-Friday). This is likely due to the fact that men tend to have shorter hair which is faster and easier to style. This allows men more flexibility with the time they have available during the typical work week. As a result, the male segment will make up a large percentage of our customer base.
The secondary segment of our market includes women in the working class. The survey shows that women sought hair services mostly during weekends. This is mostly due to the time and energy required to attend their hair. Longer appointment times aren't easily accommodated during the work week. Therefore, working women will likely seek services during weekend and evening hours.
The final segment includes children. Like the male segment, child haircuts are typically quick and easy to style. However, children come accompanied by adults, who may lack flexibility when it comes to the times of day the seek service. In addition, school often prevent children from seeking services during academic hours. As a result, child services are normally provided during evening and weekend hours.
With a population growth rate of 4.6% in the last 2 years, we are projecting an annual customer growth rate of about 5% for Flipz Hair Salon which is likely to increase because of our marketing efforts.
Traditional days off for hair salons in the area are Sunday and Monday. To help accommodate the schedules of our busy clientele, we will be opened 7 days a week, excluding Thanksgiving and the day after, Christmas Eve, and Christmas Day. Our operating hours are 9 am – 8 pm (Monday – Friday) and 9 am – 6 pm (Saturday – Sunday).
Company Advantages:
Clients are more likely to choose hair salons based on proximity to homes and offices, quality of services rendered and importantly, customer care services. Located a few miles away from the commercial avenue but closer to the residential area in Beaufort, Flipz hair salon is best placed to reach its target demographic. Our closest competitors, Fray's Salon is sited closer to the industrious arena.
The personal grooming industry has a long history of using harsh chemicals. Even short-term usage damages the hair, fingernail integrity, and skin problems. Flipz Hair Salon seeks to lessen the effects of chemical treatments by providing natural and organic products which are healthier for the skin, hair, and nails. As one of the future salons in the country offering these types of services, we anticipate being at a great competitive advantage over other competitors who use more traditional treatments.
Also, clients choose Flipz Hair Salon because of the quality of its grooming services, the comfort of its business environment, friendliness and hard work of its staff, the wide range of services provided and also the effectiveness of its hair products. With our combined grooming and customer care services, we have what it takes to dominate the hair salon business in the area.
Regulations:
Flipz Hair Salon must maintain the South Carolina Board of Cosmetology licensing requirements. All stylist and cosmetologist working at Flipz Hair Salon must possess and maintain the proper state cosmetology licenses to provide services to clientele. The property location must pass the proper fire and health inspections.
Product Line
Product & Pricing Structure
Haircut & Style (includes shampoo & condition)
Men: $25-40
Women: $35-50
Children (10 & under): $20-30
Color & Highlighting
Color Touchup: $60-85
Virgin Color: $80 and up
Partial Highlights: $80-100
Full Head Highlights: $120-200
Perm
Hair Relax (New Growth): $90 and up
Hair Relax (Virgin Hair): $120 and up
Spiral: $90 and up
Other Services
Deep Condition Scalp Treatment: $25
Pedicure: $35-50
Manicure: $35-60
Shave: $15
Marketing & Sales
Growth Strategy
Marketing & referrals will be our main channel for growth. We will adopt several marketing strategies to retain our customers, and also bring in new ones. Some of the few strategies we will adopt include:
Market our business through local radio and television stations.
Consistently send business flyers to the mail addresses of our customers.
Provide discount coupons to our customers that refer friends and families
Use Popular Social Media platforms (Twitter, Instagram, Facebook) to promote the salon.
Direct Marketing Strategies
Ensure that Flipz hair salon is listed in online and offline business directories.
Attend hair and fashion shows to promote the company
How to Sell
Flipz Hair Salon has secured the services of Miss Elizabeth Swan, the Marketing director of Swan Enterprise (an advertising agency). Miss Swan comes highly recommended. She has promoted a lot of business and she knows the community well. Miss Swan will be in charge of brand awareness and promotions for Flipz Hair Salon. She will work closely with us to create several marketing campaigns closely targeting the residents of Beaufort.
Also, our marketing strategy will be based on professional interactions with our customers. We will organize and attend community events, where we will exhibit our products and expertise for the world to see. We will also provide incentives in the form of discounts to our loyal customers to thank them for choosing Flipz Hair Salon.
Funding Request
The startup capital will cover lease and salon equipment (e.g. dryers, chairs, burners etc.). Initial expenses amount to $70,000.
The Owner, Mrs. Hannah Baker will provide 40% of the startup capital and the remaining will be sourced with a Microloan.
Final thoughts on a hair salon business plan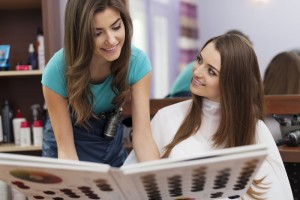 One item not included in this hair salon business plan is the financial projections. No hair salon business plan is complete without a good set of financial projections.
As an entrepreneur seeking to open a hair salon, keep in mind that even the smallest town often has multiple salons. Customers become very loyal to their cosmetologist. For many, beauty and grooming are high on the lists of needs. This makes breaking into the industry a challenge for many.
As a result, it's important to include a strong competitive advantage in your hair salon business plan. Please note that a strong competitive advantage IS NOT having the lowest price. Rather consider the competitive advantage offered in this hair salon business plan (natural and organic products). Though it's not a unique concept, few salons in the industry have yet to incorporate it into their business, let alone model their business around it.