African America Quotes: Alice Walker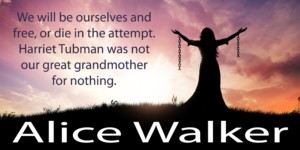 I love this Alice Walker quote for two reasons. For me, it has a double meaning. First, it talks to me specifically as an African American Woman, thinking back on the trials my ancestors faced. Though we still have a long way to go as an African American community, I feel blessed to be living in a world that's progressed so far from slavery. Life certainly can be a lot harder. It is an honor to come from a line of strong women, who have overcome.
The second meaning this quote has for me is the idea of simply being me. No apologizes. I am who I am.
We will be ourselves and free, or die in the attempt. Harriet Tubman was not our great grandmother for nothing.
~Alice Walker




Struggling to figure out what lenders really want? Grab this 20-page guide and DEMYSTIFY the lending process.
DEMYSTIFYING Small Business Loans for Women is the perfect starting point for any business woman who's seeking money for their startup or expansion. Just click on the button to the right to get it. FREE!