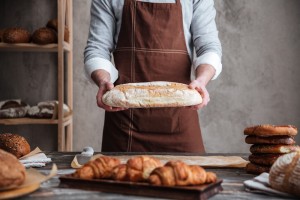 If you're planning on starting a bakery business, you should know that companies with business plans are twice as likely to succeed than those that don't. To get you started, I've put together a sample bakery business plan. Though you'll need to do your own research, you can use this as a template to guide you through researching your bakery business plan.
If you are having problems coming up with a business plan for your bakery. Below is a sample business plan from God's Love Bakery in North Carolina.
God's Love Bakery
Business Plan
Ishea Robinson, Rachel Brown, and Tory Williams (Owners)
Executive Summary
Introduction:
God's Love Bakery (GLB) is a bakery and coffee drive-thru located in Gorman, North Carolina. GLB expects to provide utmost satisfaction to its customers with its wide variety of muffins, pastries and coffee flavors.
The rising housing costs of the neighboring cities to the South has resulted in a flux of people moving into Gorman. This has caused an increase in demand for local eateries, particularly in the morning as workers look for quick sources of nourishment for their commute to the major cities. The partners believe that they have a competitive advantage mainly due to their experience, and also the weak competition in the area.
They would be offering bakery products and coffee at moderate and competitive prices to meet the demand of the residents in the area.
Product:
God's Love offers a broad variety of bakery and pastries goods, as well as breakfast fare for those seeking a heartier meal. We strive to support our community and purchase the majority of our ingredients from local farmers in North Carolina, such as eggs, flour, dairy, fruit and other products.
GLB compliments its assortment of baked goods with specialty coffees products made from beans cultivated in Yemen and Ethiopia. GLB caters to customers by roasting the beans on site. This gives customers a freshness they won't find at most coffee shops.
In addition to food and drinks, GLB sells small coffee appliances, coffee beans, and branded products. We also provide limited catering services for breakfast and lunch events.
Future Projections:
Although the bakery industry is a competitive one, we believe that the uniqueness and variety of our brand provide us the advantage. Along with our friendly attitudes and customer-centered focus, we hope to build a large and loyal customer base, which will help us stay relevant and in the business for a long time.
One revenue stream GLB has planned is its own product line. The head baker has developed several recipes and often experiments with new recipes. GLB will use that innovation, alongside the help of a manufacturing company, to transform those products into packaged products that can be purchased in the bakery, ordered online, and delivered to consumers.
Within the next 5 years, God's Love Bakery plans to expand its small-town model to additional cities within North Carolina that skirts a larger city.
Company Description
Mission:
God's Love Bakery provides energy and fuel for the hard workers on the go who keep America running.
Principal Members:
Ishea Robinson – Head Baker (Co-Founder)
Rachel Brown – Business Manager (Co-Founder)
Tory Williams – Marketing & Sales Director (Co-Founder)
Legal Structure:
God's Love Bakery (GLB) is a registered Limited Liability Company. Ownership is as follows: Ishea Robinson (50%), Rachel Brown (30%), and Tory Williams (20%).
Market Research
Industry:
God's Love Bakery is going to be a part of the baking industry in the United States of America. Baking is a core aspect of our economy as it accounts a wholesome $311 billion in economic output or mildly speaking, a roughly 2.1 percent of GDP.
Baking industry is made up of companies that are involved in the sales and production of baked goods such as bread, pastries, cakes, pastries, cookies and lots more. This is the field where God's Love Bakery will play. Records show that the income stream of the average bakery stands at about $450,000 and can hit unexpected numbers when selling more goods or charge a premium price for specialty or select products.
Paired with the baked goods are the coffee products. According to a Reuter's survey, 67% of individuals drink coffee on a daily basis, while the average American spends about $1,100 on coffee a year. More individuals buy coffee today than ever before. This trend is not expected to change any time soon.
Detailed Description of Customers:
Prospective customers of God's Love Bakery are mainly the working middle-class. The business will target local residents commuting to Raleigh-Durham to ensure the stability of the business. This segment of customers will constitute a large percentage of the customer base, as they are likely to consume bakery and coffee product on a consistent basis.
Secondary revenue stream will come from delivering and catering to local businesses during the late morning hours. Quality products are very essential requirements in capturing and retaining this section of the market.
Company Advantages:
The main advantage God's Love Bakery has over its competitors is the quality of its goods and relationships the owners have with the local community. GLB uses locally grown baking ingredients. Combined with the head baker's innovative recipe ideas, consumers can be sure they're feeding into the local economy, as well as experience unique treats. In terms of coffee products, Yemen and Ethiopia have some of the richest and longest histories in growing coffee beans. By purchasing raw coffee beans from quality sources in those two countries and roasting them onsite, customers know they'll get a high-quality cup with the freshest taste, every time.
Though there are other eateries in the town, GLB is the only bakery between Gorman and Raleigh-Durham. As a bakery serving coffee to the hard-working population, we open early. The only business available to get coffee or food for early morning commuters is the local gas station, which requires customers to walk in for service. God's Love Bakery has a drive-thru window, which means customers do not have to leave their vehicles and can quickly continue on their journey to work.
Regulations:
God's Love Bakery must meet all federal and state regulations concerning the food business. Specifically, Code of Federal Regulations in Title 21, Parts 136, subpart B, Sec. 136.110. GLB is also required to pass health, food, and fire inspections, as well as obtain food permits for all food handlers.
Product Line
Product/Service:
God's Love Bakery provides freshly made bakery and pastry goods to its customers during business hours (5 am – 2 pm). The bakery will sell coffee and espresso products made from coffee beans roasted onsite. Catering and delivering services are available from 8 am – 2 pm.
Below is a list of baked foods that will be available for sale at God's Love Bakery:
Bakery and Pastry Goods
Doughnuts
Cake
Bread
Scones
Cereals
Rolls
Pastries
Pies
Breakfast sandwiches
Beverages
Coffee
Latte
Cappuccino
Tea
Hot Chocolate
Espresso
Pricing Structure
Bakery and Pastry Goods – 75% markup on COGS
Beverages – 80% markup on COGS
Delivery Fees – $5
Catering Service Charge with Minimum Order – 20% of Food/Beverage orders
Intellectual Property Rights
God's Love Bakery is a trademarked name in the State of North Carolina.
Marketing & Sales
Growth Strategy
To grow the company, God's Love Bakery will do the following:
Increase the variety of bakery and pastry products through innovative recipes.
As the business grows, advertise with billboards.
Communicate with the Customer
God's Love Bakery will reach out to its customers by:
Providing an email newsletter with company news, product information, and craft fair schedule.
Creating a digital marketing campaign using targeted Google and Facebook adverts
Comprehensive social media marketing using Twitter, YouTube, Pinterest, Facebook, LinkedIn, and co.
Create a website and provide the company's information on the website.
How to Sell
Currently, the Marketing & Sales Director for God's Love Bakery is Tory Williams. She is responsible for most of the promotional materials and social media accounts. She will work closely with a sales expert in areas of on- and offline advertising. As profits increase, GLB may hire an employee to assist with improving the online presence of the firm in a bid to create awareness and increase our customer base.
As the business focuses on working computers, the location of the business is strategically located on the main road leading out of town, just before the on-ramp to Interstate 85. Since the building is on the same side as the ramp, it provides a convenient stop before their commute.
Funding Request
The startup costs for the God's Love Bakery is $120,000. The co-founders will contribute 25% of the cost of the startup ($30,000), in the following distributions:
Ishea Robinson – $15,000
Rachel Brown – $6,000
Tory Williams – $9,000
The remaining $90,000 of funds will come from loans.
Final Thoughts on the Bakery Business Plan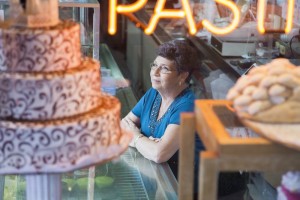 This bakery business plan doesn't include a complete set of financials. However, the financial projections are often the most important part of your business plan, particularly if you need funding. Your projections will show an investor whether your business has the potential to give them a return.
Finally, be detailed with your business plan. The more details you can provide about factors that will affect the success of your business, the better. Not only do investors need to know what can hinder your business's success or propel it forward, but you do also. The more aware you are, the better you are able to face challenges.