Here's how it works!
The MBE Certification process can be time consuming and complex. Yet MBE Certification can be one of your most valuable assets, increasing your competitiveness in the government and corporate arena. This is your opportunity to tap into incredible savings and receive assistance with your Minority Business Enterprise (MBE) certification at a fraction of the cost.
Step 1: Your deposit of $250 gets you started with 
MBE Certification Assistance
Step 2: Schedule your initial appointment with Backbone America
Step 3: Work with Backbone America to complete your MBE Certification
Step 4: Submit your MBE Application and MBE Certification Fees

Step 5: Schedule a site visit and interview
Step 6: Wait for your application to receive final approval
It's as easy as that. Backbone America helps you every step of the way!
Act quickly. This offer expires at the end of the year!
Here's what you get!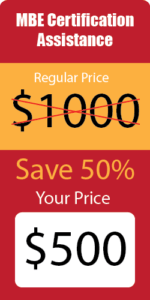 The regular cost for this service is $1000. Act quickly and you tap into one-on-one certification assistance for half the cost. Your initial deposit of just $250 gets you started! Government agencies and corporations have set goals to work with business owners just like you. Don't be the one who's passed over because your don't have your certification in place. Let us assist you and we'll…
[x] Provide guidance on collecting necessary documents for certification
[x] Complete your application FOR YOU!
[x] Review your application with you and make changes as needed

[x] Help you submit your completed application
Plus… we remain on standby to troubleshoot any issues that may arise with your application at no additional cost to you.
Let's get you certified to win those contracts!
Note: Financial assistance may be available for qualified Nevada business owners. During your initial appointment, ask about funding opportunities that can help you mitigate the cost of your MBE Certification Assistance. Qualified business owners can receive up to 75% off the regular price.
Benefits of MBE Certification
MBE Certification provides you connections with the largest publicly-owned and privately-owned businesses in the country. MBE Certification opens up contracting opportunities with foreign-owned companies, universities, hospitals, and many other organizations which can help you grow your business. Other benefits of becoming MBE Certified include: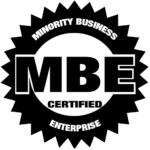 [x] A Listing in the National MSDC Supplier Database


[x] Networking Opportunities




[x] Training and Technical Assistance




[x] Increased Exposure




[x] Corporate Matchmaking




[x] and so much more…
If your goal is to grow your business, you can't afford to forgo MBE Certification!
Give your business the leverage it needs to compete with the big boys!
Still have questions?
Great! We have answers. Schedule a free 15-minute consultation with us. We'll talk about if MBE Certification Assistance is right for you.